Finding a China heart for robots
Source:Xinhua
Author:Xinhua
2015-05-13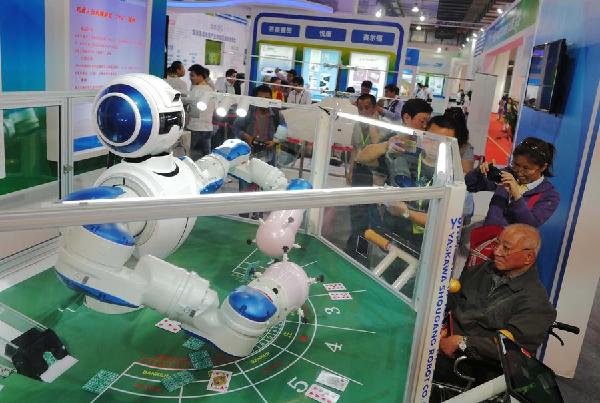 A robot on display during the 18th China Beijing International High-tech Expo in Beijing, May 13, 2015. [Photo/Xinhua]
BEIJING - A robotic arm on prominent display at a tech expo that opened in Beijing this week has not garnered as much buzz from visitors as the smart toothbrush and smart bicycle being shown next to it.
But the robotic arm, manufactured by Beijing-based start-up Heng Zheng Robotics, and many like it made overseas, have began arriving at factories across China to perform tasks previously done by workers.
Heng Zheng Robotics said its robotic arms can be reprogrammed to perform various functions, unlike many sold by foreign companies that are pre-engineered only for a particular job.
But underneath its metallic cover, the core components empowering this nimble robotic arm - motor, controller and decelerator - are produced by Japanese firms.
"We'd love to source these parts from domestic companies, but they just do not quite measure up," said Liu Rui, Heng Zheng Robotics' sales manager. "The robot won't be able to position accurately if we replace Japanese parts with those produced in China. Better technologies developed by overseas companies has led to their monopoly in this area."
Heng Zheng's customizable and foreign component-powered robotics represent both the challenges and opportunities for China's manufacturing. The lack of core technologies has subdued profits at Chinese companies while customization is replacing cookie-cutter production as an emerging trend in manufacturing.
Some Chinese provinces have announced ambitious initiatives to replace human workers with robots, as worsening labor shortages have dulled the cost advantage for made-in-China products. It also came as China seeks to remake its manufacturing sector with less reliance on foreign technologies and efficiency gains through the use of industrial internet.
The challenge posed by the lack of technology has become stark as the country's traditional edge is disappearing. Labor costs have risen to the point where multinational firms find it cheaper to shift their manufacturing to southeast Asia.
A grand plan, dubbed "Made in China 2025" and expected to be rolled out some time this year, will lay out strategies for China to scale up its manufacturing sector in the next decade.
First mentioned by Premier Li Keqiang in the government work report delivered at this year's parliamentary sessions in March, the plan seeks to nurture emerging industries from bio-medicine to advanced equipment manufacturing to maintain China's manufacturing edge.
An official at China's Ministry of Industry and Information Technology told Xinhua that the upcoming plan has focused on stimulating indigenous innovation, improving quality and reduce environmental damages, among many other entrenched problems facing the country's manufacturing sector.
"China is being pressured from both sides," the official said. "Advanced economies like the United States, Germany and Japan have all formulated policies supporting further development of their own manufacturing. At the same time, emerging economies like India and Brazil are also catching up with their own advantage."
Li Yizhong, head of the China Federation of Industrial Economics (CFIE) and the former minister for industry and information technology, said the grand overhaul of China's manufacturing should let Chinese companies take a center stage in technology research.
"Technological breakthrough should be pioneered by market players. Companies should work together to focus on developing key technologies that will benefit an entire sector." Li said.
Industry insiders say technological research in China can hardly made its way from labs to the marketplace. Only 30 percent of research has been put in practice in China, compared with nearly 70 percent for advanced economies, according to CFIE's Li.
The reason behind the poor conversion rate, Li said, is the lack of sufficient protection for intellectual property rights and the lack of channels for technologies to step out of labs and into the real world.
The robotic arm Heng Zheng Robotics is displaying at the tech expo is the third generation of its kind, and it's still powered by core components from foreign firms.
"We are willing to source core components for our robot from Chinese suppliers in the future," said Liu Rui. "But it just takes time for Chinese components that meet our standards to hit the market, and in the meantime we can't shelve our production to wait for Chinese technologies to mature."
Hopefully the "Made in China 2025" plan would make that day come sooner.