Komori and Screen team up for inkjet web sales
Source:Printweek
Author:Jo Francis
2016-04-19
Komori has partnered with Screen to add a colour inkjet web offering to its nascent digital press line-up.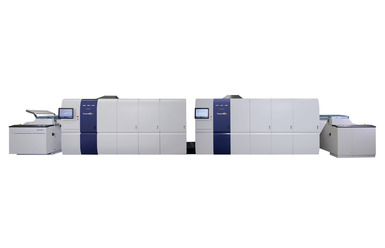 The two manufacturers have agreed a strategic partnership that will see Komori Europe become the exclusive sales channel for Screen's Truepress Jet520HD inkjet web press in Britain as well as the German, Dutch, Belgian, French and Italian markets.
A similar partnership between the duo was arranged in North America last autumn. The deal covers the European markets where Komori has its own sales channel, and became effective at the start of this month.
The Truepress Jet520HD had its commercial launch last year.It has a 520mm web width and runs at 50m/min at its maximum resolution of 1,200dpi, or 120m/min at 600dpi. It is targeted at high quality applications such as direct mail and publishing and has a price tag starting at around €1.5m (£1.2m), depending on configuration and finishing kit setup.
Komori Europe director of digital sales Robert Holscher said the partnership allowed Komori to "fill a portfolio gap".
"We have introduced a sheetfed digital solution and there is definitely demand for roll-to-roll digital among our customer base. With this distribution agreement we are filling a portfolio gap in this area."
Holscher said Komori's sales team had already been trained in the product, and the firm had a number of potential applications in its sights for the press.
"Direct mail companies are one of the main target markets, also catalogues and personalised magazines," he said.
The press will not be re-badged. Screen Europe will provide service and support for the product.
"The extensive knowledge of Screen in these markets will help Komori to develop digital markets that we are new to, and that will be very helpful in making this partnership successful," he added.
Screen Europe vice-president of solutions and technology Tim Taylor said: "With the Jet520HD we are taking a much higher quality of inkjet into new applications, and the credibility of Komori as a partner will help us. We will help Komori achieve sales in whatever way we can."
Komori also has strategic partnerships with Konica Minolta and Landa for sheetfed digital presses, but Holscher stressed the difference between the arrangements.
"Konica Minolta and Landa are technology partnerships where it's a Komori product that utilises their technology. This is something different, it's a distribution contract where we are selling another partner's product by opening up our sales channel."
Komori will not have a Jet520HD on its booth at Drupa, but will show samples. Holscher said potential customers would be able to see the press running on the Screen booth at the exhibition, if required.
The deal makes it unlikely that the inkjet web press shown by Komori as a technology demonstration at Drupa 2012, and with a similar print width as the Jet520HD, will come to market.
There are three Truepress Jet520HD installations in Europe, with the most recent at book printer Silhouet Digital Print in Belgium. The first European installation was at Dutch direct mail printer Nic.Oud, which went into full production at the beginning of last year. Swiss direct mail printer Baumer also runs one of the devices.
Screen's Truepress Jet520HD engine is also used in Ricoh's VC60000 digital press.