Introduction:
This paper bag machine forming the paper bag in one process from roll paper, edge folding, tube forming, cutting, gluing, bottom folding,bottom gluing and finishing bag Easy operation, low power consumption, high efficiency. It is an ideal machine for producing food bags like bread bags, KFC bags and Mcdonald's bags.
Features:
1. Controls bag length through the human-machine touch screen interface.
2. Adopt touch screen and PLC programmable control system, the work condition can be shown real time.
3. The machine has automatic counting system. The user can set a number to count.
4. Equipped with an accurate photocell system for printed mark tracking.
5. Color mark error stopping system
6. Double photoelectric sensor limit automatic correction control system
7. Material lifting adopt pneumatic lift structure.
8. Automatic oil lubrication system.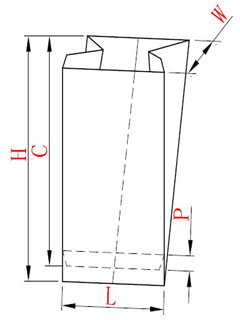 Ruian Lilin machinery Co., LTD., is a professional paper bag machine manufacturer.It was founded in 2006, since its inception,the company has been committed to the r&d and production of paper bag making machine, constantly introducing new and high technology, combined with market demands and constantly develop new products, higher quality, higher efficiency to meet the market demands.
Lilin main products: LHB-450Fully Automatic Roll-fed Square Bottom Paper Bag Machine ,LSB-450Roll Feeding Square Bottom Paper Bag Machine, LSB-290Roll Feeding Square Bottom Paper Bag Machine, LSB-190Roll Feeding Square Bottom Paper Bag Machine, LFD-350 reel feeding square bottom paper bag making machine, LMD - 600 fully automatic high-speed food paper bag machine, LMD - 400 fully automatic high-speed food paper bag machine, LSY - 100 high-speed paper handle machine,these products have been sold to southeast Asia, Europe, Middle East, Africa, South America and other more than 30 countries and regions.
Since its inception, the enterprise always adhere to the "technology first, quality first" business philosophy, with honest and trustworthy operating style, excellent product quality and excellent service to win for the principle, for the user to achieve maximum value to reflect my value. Wholeheartedly welcome the domestic and foreign merchants to come to visit or inquire.