Why Attend?
5 Reasons Attending is ESSENTIAL to your success.
1.INSIGHTS
–PACK EXPO Las Vegas offers valuable, hands-on and convenient learning opportunities right on the show floor. The industry's most recognized experts share knowledge of breakthrough technologies, the latest regulations...everything you need to know to keep your projects moving forward.
2.INTERACTION
–We're not talking top-level-only networking events. There's camaraderie and idea-sharing going on everywhere at PACK EXPO. You'll connect with fellow professionals in industry-specific lounges and pavilions, strike up conversations at booths and plug in to the energy that comes from walking the show floor with 30,000 forward-thinking peers.
3.INSPIRATION
–It takes more than "business as usual" to stay ahead. At PACK EXPO Las Vegas, you'll gain the outside perspective you need to solve tough problems, identify best practices, exceed demands, guide your organization into the future and develop a competitive edge.
4.INNOVATION
–We're known for it. Our show floor shows you the future—in action—and delivers everything you need to bring your ideas to life. You'll see the most advanced technologies for enhancing production from beginning to end—and of course the most creative packaging ideas imaginable—from 1,800+ vetted, top-tier suppliers of processing and packaging solutions.
And because it wouldn't be Vegas without it...
5.ENTERTAINMENT–The fun and thrill of Vegas doesn't stop at the door of the convention center. At this year's PACK EXPO, you'll feel like a VIP in our expertly designed industry-specific pavilions and lounges. Relax, unwind, and talk shop with tantalizing food and beverages served right on the show floor. Plus, this year's PACK gives BACK™ charity event will feature an unforgettable performance from the legendary rock band, Chicago! So get ready for PACK EXPO, Vegas-style!
Who Exhibits at PACK EXPO Las Vegas and Pharma EXPO?

Over 1,800 suppliers and service providers of packaging, processing and other supply chain technologies will exhibit in Las Vegas September 28-30, 2015. They come to connect with more than 30,000+ motivated buyers from 40 vertical markets. Don't miss the opportunity to connect, too!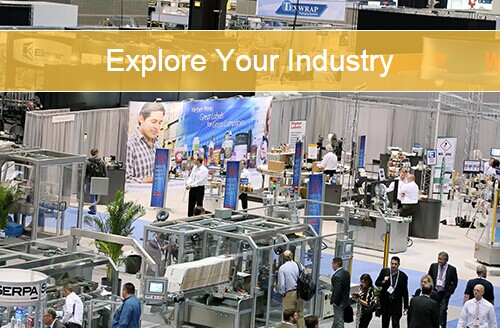 Official website: www.packexpolasvegas.com/