The Japan Packaging Machinery Manufacturers Association is pleased to announce that it will hold JAPAN PACK 2015 at the Tokyo International Exhibition Center (Tokyo Big Sight) in Ariake, Tokyo from October 13 (Tue.) to October 16 (Fri.), 2015. JAPAN PACK is a big event where leading manufacturers in packaging and related industries from around the world bring their cutting-edge devices and technologies to gather together with users and buyers every two years.
This is the largest packaging fair in Asia in terms of scale and contents where visitors can find various products for manufacturing, packaging, and logistics, see current trends, and enjoy special seminars, seminars presented by exhibitors, and other various events such as the "Japan Pack Awards." JAPAN PACK is an excellent opportunity for global business matching and has been enjoying a good reputation from exhibitors and visitors.
With the theme of "Find the fun in the packaging world", JAPAN PACK 2015 will be held as a more comprehensive exhibition than ever before. It will be an exhibition where various devices, technologies, and business models are exhibited so that anyone who visits this exhibition, or the "world of packaging", will be able to find something new. We offer the perfect place for exhibitors to effectively attract the attention of visitors and we carry out proactive public relations to encourage more users and buyers, which is to say potential business partners, to visit the fair.
Since the 1st exhibition held in 1964, JAPAN PACK has been held with the main aim of developing Japan's packaging and related industries and promoting rationalization and labor-saving in user industries. This year will mark the 30th JAPAN PACK, so we are planning to hold special events. There is a lot to look forward to in JAPAN PACK 2015!
We are confident that JAPAN PACK 2015 will create opportunities for you to acquire new customers and expand your business globally. We also believe that this event will provide you with the opportunity to find the answers you need to expand your business. We look forward to seeing you at JAPAN PACK 2015!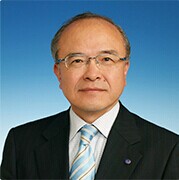 President of Japan Packaging Machinery Manufacturers Association/ JAPAN PACK 2015