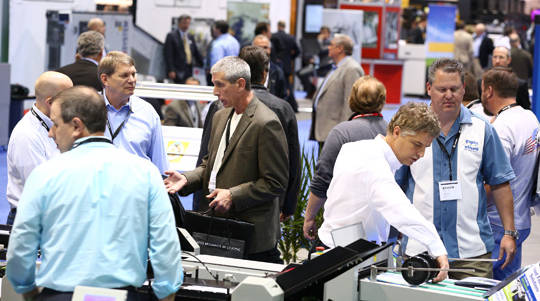 GRAPH EXPO 15, together with co-located show CPP EXPO, is the most comprehensive "selling" trade show for Digital, Inkjet, Offset, Flexo, Gravure and Hybrid technologies, products and services for the Commercial, Transactional, Converting and Package Printing, Publishing, Mailing, In-Plant, Photo Imaging, Marketing and Industrial Printing industries this year!
GRAPH EXPO 15 and CPP EXPO
When:
September 13-16, 2015
Pre-Show EXECUTIVE OUTLOOK Conference:
Sunday, September 13
8:00 am-12 noon
Show Dates and Hours:
Sunday, September 13, 12 noon-5 pm
Monday, September 14, 10 am-5 pm
Tuesday, September 15, 10 am-5 pm
Wednesday, September 16, 10 am-3 pm
Where:
McCormick Place South
Chicago, IL, USA
McCormick Place Map
View Map Location
How Much:
Standard Rate: $32.00/sq.ft.
Machinery Handling Package:
$36.95 by April 30, 2015 /
$37.95 May 1, 2015 - July 31, 2015
Who:
Top professionals from every segment of the graphic communications industry, along with over 550 exhibiting companies occupying the expansive show floor.
Why:
No other industry event brings together so many buyers in one place, and puts vendors in such close touch with market trends and emerging opportunities. It's the most cost-effective, solid selling event of the year.